Bregton Quality Control System ( QCS )

Bregton Quality Control guidelines cover every stage of production, from processing the raw materials to handling the finished up. Quality Control governs manufacturers to have updated engineering, controlled environment and facilities, competent personnel and documentation. Inspection, testing and quality control are carried out throughout manufacturing processes. Bregton trained staff work meticulously to ensure that the quality of each product is consistent from batch to batch.

Bregton QCS guidelines

Manufacturing plant requirements
Equipment requirements
Raw material requirements
Personnel control
Production control
Packing control
Documentation and record keeping
Quality Assurance and Quality Control
Quality assurance and quality control
Bregton is a world-class manufacturing company. With an impressive range of high-tech manufacturing machinery and test equipment, and extremely well trained people, the Company is in a good position to meet the challenges of growth that lay ahead.
The Company is capable of providing every step of the manufacturing process from design concepts to the delivery of finished goods with unsurpassed quality.
To increase the core equity, and future capability of the company, Bregton has continually invested profits back into the company to buy sophisticated manufacturing and test equipment. This commitment to manufacturing allows Bregton to control the quality, reliability and compatibility of the products.
Bregton QCS Strategy
Achieving world-class quality manufacturing is a challenge that Bregton has embraced with great success. Signifying a strong dedication to the art of making superior finished goods, the company employs quality procedures and processing, advanced manufacturing techniques, and rigorous testing before the Bregton name is stamped on the product. Engineers, technicians and quality specialists closely examine the products as they are manufactured to ensure that all products leaving the facility are fully functional and without defect.
Bregton Industry Certifications
Bregton facilities have earned the ISO 9001certification, designating that the Company has defined processes for establishing and maintaining an effective, quality system for manufacturing. This certification outline a guide for quality products and have become an international reference for quality requirements in business to business dealings. The ISO is a worldwide federation that has created a set of certifications that are based on universal rules for governing stable quality in manufacturing that transcends all languages, interpretations, and equivocations.
In October 2013, Bregton received certification and approval from the prestigious "SGS", enabling the Company to manufacture products for export into countries which have signed the Inspection Convention and includes all Middle Eastern countries, most European countries as well as several Pacific Rim countries. Bregton products are certified to meet the Standards established by the Ministry of Land and Resources of the People's Republic of China.

Quality Assurance Testing
Bregton has established comprehensive quality testing methods that are part of Quality Control System to monitor and control product quality in strict adherence with international standards. To maintain control over the materials and technologies of its products, Bregton has been testing all its goods in a sino-british joint-venture enterprise in Tianjin--also home to the company's China headquarters. This facility exports to some Southeast Asian, European and Middle Eastern countries as well.
Quality control procedures include: a burn-in period for finished products, production reliability audits, failure analysis for identification of production problems and customer service. The testing systems assure the quality of Bregton's products and help control manufacturing costs.
Bregton scientifically designs and customizes products based on the unique needs of individual clients. New products and solutions are researched and tested prior to full-scale production. Bregton continuously produces pilot or sample runs of product formulation prototypes to ensure stability and/or efficacy and to determine prospective customer acceptance of the final product. The company also directs and participates in research studies to establish consumer benefits and scientific efficacy supporting both product and marketing initiatives. Bregton's team of scientists and engineers utilizes the verified results of these studies to design customized products. Bregton has performed numerous investigations in affiliation with research institutions, both in the United Kingdom and internationally.
Material Acquisition and Analysis
The manufacturing process begins when Bregton receives a formal copy of the customer's purchase order. The order is entered into Bregton computer system, which manages all aspects of production scheduling, material delivery, packaging coordination, and shipment tracking. All the samples are rigorously tested to ensure quality.
Once the samples required to complete an order are manufactured, tested and released for use by QC, the product is released to the warehouse. The facility consolidates these operations into one location to improve materials and inventory management, work-in-process manufacturing, product distribution, as well as overall manufacturing and quality process controls.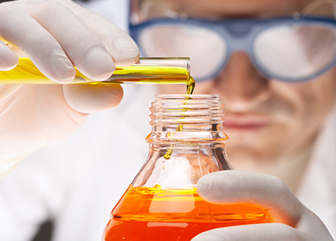 Testing and Quality Assurance
Bregton technical staff continuously monitors the output of the production facility to ensure the highest quality of finished goods. We conduct extensive testing on state-of-the-art laboratory equipment of top world brands.
Bregton products are examined for all the characteristics, including chemical analysis, physical testing, mechanical testing, microanalysis and metrology. This extensive laboratory testing ensures that Bregton's customers are supplied with products that conform to the highest standards. Bregton certifies that all materials and components meet or exceed international standards.
Begton's quality control is part of every step of its manufacturing and procurement processes. The testing of materials and finished products is only part of the everyday responsibilities of our Quality Control & Compliance department. Throughout the manufacturing process, the Bregton personnel perform in process sampling and testing to ensure consistent product quality that conforms to customers' specifications and industry standards.
Bregton created enhanced Quality Control and highly sophisticated and flexible quality management throughout the supply chain. Bregton Quality Management System facilitates continuous quality tracking throughout the manufacturing process by providing essential visibility into quality at all phases of your supply chain—from raw materials procurement to order shipment.
Management believes the ability to offer in-house packaging improves inventory management/quality control. As an example, product components are checked for lot identification, quality and adherence to specifications both prior to and during the packaging process. After packaging is completed, the finished product is palleted, labeled and prepared for shipment. Bregton's Graphic Design team works with each customer to create labels meet customer's requirements.
Standardize Product Quality
Bregton Quality Management provides a quality-based view of materials on hand before production begins, improving manufacturer's ability in making formula-to-formula or batch-to-batch changes to satisfy customer specifications and quality control (QC) tests. Bregton Quality Management enables establishing and communicating quality standards throughout an enterprise and assess quality performance at each of manufacturing plants. In addition, analysis of quality results serves as a basis for continuous product improvement.
Assay Definition
Bregton Quality Management provides flexibility in identifying the assay requirements for delivering appropriate product to customers. Bregton establishes assays to test both physical ( such as temperature, corrosion , wear, chemical resistance ) and working characteristics ( flow rate, pressure, efficieny) and defines the types of results as numeric-based or text-based ranges (minimum to maximum), value lists, or non-validated. Bregton Quality Management also lets specify the unit of measure for each assay, to reflect particular business needs of each customer.
Flexible Specifications Management
Bregton Quality Management provides tremendous flexibility in establishing quality standards. Enterprise-wide quality targets can be specified, as well as standards for individual locations established, as business requirements or local considerations dictate. Bregton Quality Management makes it possible to define multiple specifications for items, locations, customers, vendors, and production.
Specifications identify the quality assays (or tests) required to certify quality compliance, as well as the actions to be taken on items with non-conforming results.
Respond Quickly to Quality Issues
With web-enabled Bregton Quality Management, you can order free samples in easy way, obtain information of potential quality concerns and verify quality compliance. Bregton Quality Management also offers the information you need to prove compliance with government regulations, ISO 9000 requirements, or your own internal quality standards.
Quality Sampling, Testing, Approval Workflows
To help reduce your quality lead-times and improve customer satisfaction, the sample approval workflow will provide automatic notification to the key personnel who must complete tasks pertaining to quality sampling, testing and approval. Information for the entire lifecycle of the sample—beginning with the need to create a sample, through notification to testers of what tests are required, to rejection or re-testing, to final approval of the inventory—is circulated to the proper individuals or teams automatically.
Increase Process Manufacturing Efficiencies
Bregton Quality Management defines the process-specific quality characteristics of products to increase the efficiency of the process manufacturing resources and processes.
Lot Status Control
Bregton Quality Management provides sophisticated lot control features that enable you to use your resources more efficiently and guarantee appropriate product to your customers. It offers robust definition and complete visibility into inventory lot status.
Improve Customer Satisfaction
Bregton Quality Management in conjunction with Bregton Order Management delivers the solution to better match the quality of products to customers' requirements and expectations.
Customer Specification Matching
GC provides the ability to quickly determine whether product quality meets customer specifications. Bregton Specification Control integrated with Bregton Order Management offers the capability to find available lots that match general or customer-specific quality specifications when allocating inventory during order entry and picking processes.
Bregton QCS Summary

Assay Definition
Define quality characteristics for meeting product requirements
Establish global and plant-specific assays
Specify assay result formats
Assign units of measure to assays

Sampling

Identify samples by item, location, source, sampling time and date
Specify required actions and action dates for items needing QC attention
Provide sampling traceability by associating important results with the correct sample

Lot Control

Obtain complete visibility into inventory lot status
Define or change lot status instantly across the enterprise
Assign or change lot grade immediately
Trace materials from receipt through customer shipment for compliance with governmental regulations or internal quality standards
Support lot expiration notification, disposition, and reporting

Specification Management

Define multiple specifications for items, locations, customers and production
Specify enterprise-wide or site-specific quality targets
Designate quality assays to be performed to ensure compliance
Identify the actions to be taken on out-of-spec and experimental error results

Result Measurement

Perform tests and record results automatically
Enter results by tested sample and log them against existing specifications
Record iterative test results
Identify results to print to a Certificate of Analysis
Analyze results against specifications to determine material disposition
Supplement specifications, assays, and results with attachments

Quality Reporting and Communication

Send early warnings of potential quality concerns
Automatically notify key personnel of tasks pertaining to quality sampling, testing, and approval
Comply with regulations by producing quality certificates
Bregton has been authorized by ASME as a material manufacturer of forgings and castings of ni-resist, alloy and stainless steel (MO certificate). Besides, Bregton holds an ISO 9001 and the certificate issued by TUV.